Kinugawa Chain Mfg.Co.,Ltd.





TEL @0792 - 34 - 1515 FAX@ 0792 - 34 - 1519
---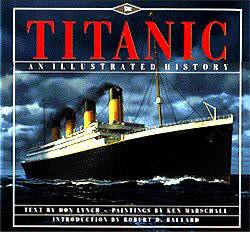 The anchors of The Titanic

The Titanic that attention of the world was drawn left the port of Southernpton on April 10, 1912. She had the bottom of the double hull structure, and it was epoch-making structure as those days. Her hull was partitioned by the room of 16. Even if seawater was flooded in 1 room, the seawater was thought never to get into other rooms, and anyone believed her the ship which never sank. But, she collided after 5 days from leaving unfortunately with the iceberg. Then, it sank in the southern sea of Newfoundland of the north Atlantic Ocean. The anchors which the latest ship was equipped with was 3set, and that total weight was 31 tons. They were carried by carriage made specially to the shipyard. Incidentally, it thinks of the diameter of the chain as much as to be a little thinner than 100ƒÓmm.



The Titanic
Launching on May 31 ,1911
Gross tonage : 46,328 ton
Entire length : 268 meter
All the width : 28.19m
Top speed 23 knots (speed per hour 43Km)

When it clicks on the right picture, it links with the homepage of the Titanic in USA.

---