Kinugawa Chain Mfg.Co.,Ltd.





TEL  0792 - 34 - 1515 FAX  0792 - 34 - 1519
---
The ferry boat for railroad Toyamaru(AD 1954)

The railroad ferryboat which went into a service first in Japan was the Taikomaru which it ran on Lake Biwa to in the 15th year of Meiji(1988 years). It was active for 100 over years, until the 63rd year of Showa (1988 years), when after that Seikan tunnel was opened.   A right picture shows the Sanukimaru which connected Honshu and Shikoku.
The biggest accident took out 1000 victims of the rest in the accident of Toyamaru. This is the number of the victim next to Titanic. Because it met with the typhoon, a ship took down an anchor, and tried to make anchor. But, therefore it blew by the wind of 57m per second, and the ship did anchor running and then overturned on the Nanaehama outside Hakodate port.
It is raised in one of the causes of the accident that the ship ran to draw anchor. The research of the scratch and hold power of anchor ( holding power agaist the bottom of the sea ) was made after the accident. Then, the anchor of the type JNR was developed.
The figure of the bottom left JNR type anchor

The figure of the bottom left JNR pattern anchor Anchor running : A chain is connected and an anchor is put in the sea to fix a vessel. Though this thing is said as the anchorage, a ship is to move with pulling an anchor even if you put an anchor.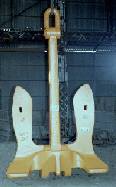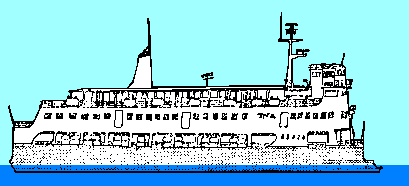 Refernce document A book of ship written by Royhei Yanagihara Shiseido AD 1968
Reference document The rudder in Kaihyakko written by Mitsuo Nakatani AD 1996
Reference document Onomichi Chain MFG Co.,Ltd.
---