Kinugawa Chain Mfg.Co.,Ltd.





TEL  0792 - 34 - 1515 FAX  0792 - 34 - 1519
---
The Nipponmaru, The Kaiwomaru (AD 1930)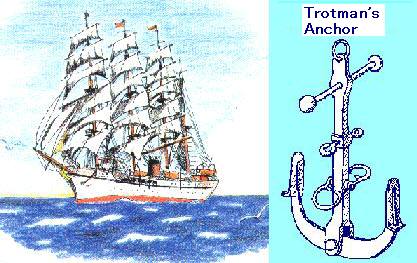 The sailboats which represent Japan are the Nipponmaru and the Kaiwomaru. It listened to the story of "The sailboat which talks with the nature directly is necessary to bring up a wonderful crewman."
 The Nipponmaru constructed in the fifth year of Showa, and the Kaiwomaru constructed the next year are equipped with the anchor called Trotman's anchor showed in figure.
The big grab power (of anchor against the bottom of the sea )AC 14 Type Anchor is adopted in the Nipponmaru and the Kaiwomaru constructed newly in the 59th year of Showa.
The old and new ship that it was constructed by the almost same shape can be distinguished with the anchor of the bow part.



---