Gates of Himeji Castle
Sangoku Moat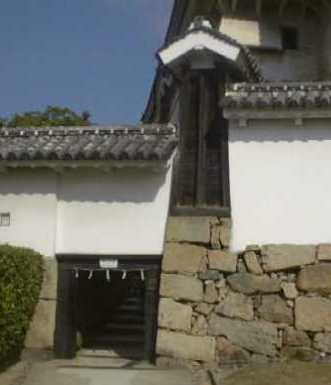 Formerly there were 84 gates in Himeji Castle.
15 were named according to the Japanese syllabary : I, Ro, Ha, Ni, Ho, He, To, and so on. At present there are 21 gates left on the castle grounds, 13 of which are named in order of the Japanese syllabary.

Mizu no Mon (Water Gates)

Approaching the main building complex from "Ho"Gate, the Chinese character for Mizu(water) can be seen on the gates. The gates were checkpoints along the route that watered from the well in Waist Quarter to the main building complex.



Various Gates

Muna Mon (Ridgepole Gates)    Chi Gate,  Water Gate 1,  Water Gate 2
Korai Mon (Korean Gates)      "I" Gate,  "Ro" Gate,  "He" Gate,  To-no-Ni Gate,  
                               To-no-Yon Gate,  "Ri" Gate
Yagura Mon(Corridor Gates)     Hishi Gate,  "Ha" Gate, To-no-Ichi Gate, "Nu" Gate
Ana Mon (Tunnel Gate)         "Ru" Gate
Uzumi Mon(Burying Gates)      "Ho" Gate,  Water Gate 3, Water Gate 4
Sangoku Moat or Three Country Moat


This square moat is called "Three Country Moat." Ikeda Terumasa built it, gathering laborers from the three provinces of Harima, Awaji, and Bizen .
This moat was important tactically. When enemies rush through Diamond Gate , the main party defends against an attack at "I" Gate.
In the meantime guerrilla gangs sally out from "Ru" Gate to the east. Finally having lost their way of retreat, the attackers are forced into the moat.
This is one purpose of the moat. Another purpose of this 1,400 square meter pond is to store water for fire prevention.

Main Tower Complex seen from Sangoku Moat