Characteristics of Himeji Castle

It is said that no other castle is better than Himeji Castle for the following reasons:


(1) The good or bad of a castle depends on the design including the defensive layout        
    (Nawabari),the construction, and the set up.  Himeji Castle,which was built on Mt. Hime, is   
    a hill or flat mountain castle (hirayamajiro).  The defensive layout of Himeji Castle is called 
    a Spiral Layout (Rasenshiki Nawabari ). The layout offers resistance as it is complicated and   
    well designed.

(2) The main building complex is made up of the main building (Daitenshu) and three 
    small towers around it.  This is called the Coalition Grouping Style. 

(3) The Dormer Gable (Chidorihafu) and Chinese Gable(Karahafu) are skillfully combined. 
    The walls of the entire buildings including eaves are completely covered with white plaster.
    This is called "Sonurikome" in Japanese.

(4) The overall construction is regular and balanced, and the appearance is very beautiful. 

(5) The original figure of Himeji Castle remains, mainly over 82 buildings including corridors, 
    Storehouses(Yagura),gates(Mon) and main buildings (Tenshu). 
    This gives you a clear idea of a castle of Japan.


Cultural Assets

8 National Treasures: Main Tower, West Small Tower, East Small Tower, Northwest Small
Tower, "I" Corridor, "Ro" Corridor, "Ha" Corridor, "Ni" Corridor,

Important Cultural Assets: Hishi Gate, Cosmetic Tower, Moats, All the buildings except for 8 National Treasures

Special Historic Site: the area within the Middle Moat (Nakabori)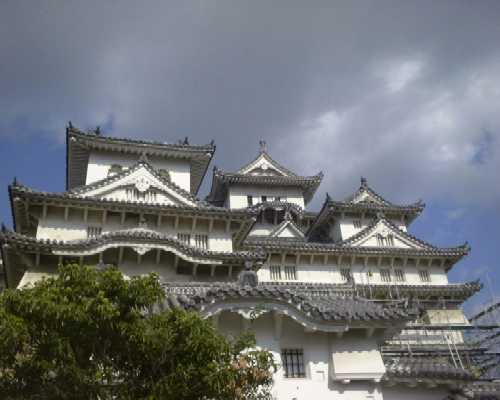 Main Tower Complex