Kinugawa Chain Mfg.Co.,Ltd.





TEL  0792 - 34 - 1515 FAX  0792 - 34 - 1519
---
Plane and anchor

 Carpenter's tools are the specialities of Hyogo Prefecture Miki City. There is a plane in those tools. Though the part of the edge uses the Yasugi steel of Hitachi Metals, Ltd. for the plane, an old anchor and a chain are used for the part of the base of the plane again. I don't know the reason clearly though a specialist says "A whetstone hit is good." Probably, I think that old iron is said to be wrought iron.
 I interviewed Mr.Sadahide Chiyotsuru who was plane master and lived in Miki City, in February, 1995. The friendly old blacksmith made stand a 4 nail anchor pulled up off the shore of Shimonoseki City on the garden of his house. He told that it was left for the commemoration because it was such a respectable anchor though he was cut off and handled in the tip part of the nail in the material of the plane. If eyes are closed, a heart is light before God. The old blacksmith made this word of Mr.Korehide Chiyotsuru (Tokyo) who was his teacher, a motto.
 His work (the plane of the name of the Evening Calm and the cutter knife of the Black lizard) was being exhibited in the hardware materials palace of Miki City.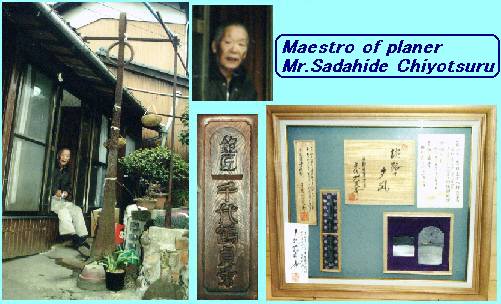 Cooperaton for interview :Mr.Sadahide Chiyotsuru(Yoshirou Kanki)
---